Archivo Movil Proveedor de China EQUIPAMIENTO DE OFICINA
SII-HPMB05
SIMPLY
94031000
1970W*650D/450D*2150H Or customized
Description
Archivo Movil
Todas las unidades de estanterías de archivo se pueden bloquear y empaquetar cuando no se requiere acceso, pero cuando sea necesario, se puede crear un pasillo. Todas las unidades de estanterías rodantes tienen un dispositivo a prueba de polvo, asegúrese de que todas las unidades estén libres de polvo
Festivales de productos
1. la estantería móvil t es una operación de empujar y tirar sin esfuerzo
2. Forma económica de maximizar su valioso espacio de almacenamiento.
3. Las unidades se pueden ampliar, alterar o reubicar fácilmente para satisfacer sus necesidades cambiantes de almacenamiento
4. Disponible en configuraciones individuales o en tándem.
5. Las pistas de perfil bajo son aptas para trolley y sillas de ruedas.
6. Cada sistema es bloqueable con una cerradura central cuando se empaqueta junto
7. Los cerrojos de seguridad incorporados para gabinetes de tipo mecánico para proteger a los usuarios de que queden atrapados accidentalmente en los pasillos.
Piezas principales y accesorios opcionales: estante de usos múltiples, gabinete, escritorio extraíble, barra para colgar, marco extraíble, cajón extraíble, divisor, cajón de discos, plataforma, puerta corredera, etc.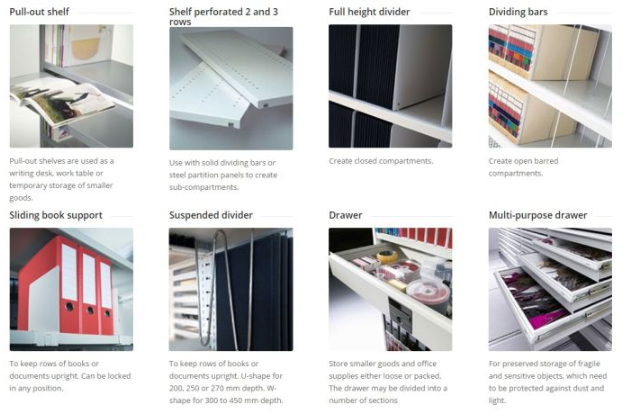 Archivo Movil
                                                                  Specifications
Types:
Manual
Mechanical Wheel
Mechanical Handle
Material  :
  Electyolytic Galvanized Steel
Surface treatment:
Epoxy Powder Coating
Dimension  :
Height :
2150mm
Width :
(905*N)+165mm    (N=number of Bays)
Depth  :
Fixed Unit  : 450mm
Movable Unit  : 450/650/850mm
Shelf Size :
W845xD395xH38mm(for 450/850);
W845xD295xH38mm(for 650);
No. of Shelf
Single Fixed /Single Movable =4n
Double Movable =8n
Aisle Size :
600-1000mm
Loading per Shelf:
Reinforced Shelf  :
D295mm/85kg ; D395mm/100kg
Multi-purpose Shelf  :
D395mm/70kg
No. of Rails :
1-3Bays :
2pcs
4-5Bays :
3pcs
6-7Bays :
4pcs
8Bays :
5pcs
Thickness:
Base
Back panel
Top panel
Front panel
Side panel
Shelf
Post
Rail
2mm
1mm
1mm
1mm
1mm
0.8mm
1.5mm
2mm
Lock :
Steering wheel with brake lock ,more safety
Post
50x50mm square tube post of double plate with slots in 25mm increment
Bumper :
Natural rubber of 30x16mm
Rail :
Made of 25mm concrete steel with 0.8mm stainless steel sheet coating
Wheel :
Iron die casting with anti-rust zinc coating
Loading  : 1000kg / Wheel
  Standard model of mobile filing shelving
Type
Bay numbers
Single fixed
Single movable
Double movable
Double Movable
Manual
1
SFP450-1
SMP450-1
DMP650-1
DMP850-1
2
SFP450-2
SMP450-2
DMP650-2
DMP850-2
Mechanical
1
SFM450-1
SMM450-1
DMM650-1
DMM850-1
2
SFM450-2
SMM450-2
DMM650-2
DMM850-2
3
SFM450-3
SMM450-3
DMM650-3
DMM850-3
4
SFM450-4
SMM450-4
DMM650-4
DMM850-4
5
SFM450-5
SMM450-5
DMM650-5
DMM850-5
6
SFM450-6
SMM450-6
DMM650-6
DMM850-6
7
SFM450-7
SMM450-7
DMM650-7
DMM850-7
8
SFM450-8
SMM450-8
DMM650-8
DMM850-8
Standard  Depth:  ( D )
450mm
450mm
650mm
850mm
Standard  Hight:   ( H )
2150mm
Standard  Width:  ( W )
905*N (N=number of Bays)
Thanks for your concern !