There are several types of mobile shelving systems. To initiate the carriage movement that will create an access aisle, there are three basic modes of operation available:
ELECTRIC POWERED MOBILE SHELVING:
With an electrical powered mobile system, users open system aisles with a simple push of a button. These systems are designed for more active, larger systems. They provide state-of-the-art safety for users and materials and provide maximum storage densities. These systems are ideal for open-access applications where enhanced reliability, security and protection of stored materials are key concerns.
Mechanical-Assist Mobile Shelving System
The bases are moved manually with the aid of a crank and a gear ratio adjusted to the loads carried. For a "track-driven" system, a gearwheel grips into a drive chain integrated in the guide rail for drive. This system is effective due to its high maximum load capability and easy running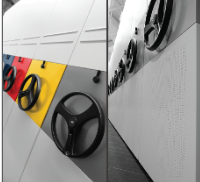 Manual-assist mobile system
With a manual-assist mobile system, users open system aisles by pushing handles left or right. These systems are ideal for smaller, low activity, and limited-access storage areas.
With its compact, elegant design, the art system for storing paintings is practically a work of art itself. These Mobile art rack systems preserve precious floor space while maintaining framed artwork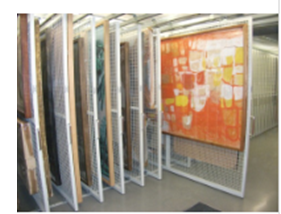 Slide-aside rolling cabinet on tracks
These storage cabinets are perfect for storing multiple types of media in less space. The cabinets are preconfigured for letter-size or legal-size end-tab file folders, but shelves are adjustable and capable of storing binders, boxes, and supplies. The locking doors slide into the sides of the cabinet when open and lock when closed. The cabinet comes with adjustable accessories for files and other materials.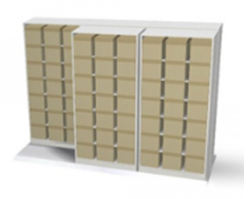 This overhead track system provides instant access while no occupying floor space and increasing the number of shelving units used in a designated area
Used for dry storage, coolers and walk-in freezers.
Utilizes 2 stationary units; one on each end, connected with an overhead track that allows mobile shelving units in between to smoothly shift side-to-side for easy access to inventory and stock items