24 Bays High Density Mobile File Storage Rack System
SII-HPMB04
SIMPLY
94031000
1970W*650D/450D*2150H Or customized
Description
24 Bays High Density Mobile File Storage Rack System
All archive shelving units can be locked & packed when access is not required, but when needed, an aisle can be created. All the rolling shelving units have dust proof device, make sure the whole units are dust free
Product Festures
1. mobile shelving t is Effortless push-pull operation
2. Economical way to maximise your valuable storage space
3. Units can be easily extended, altered or relocated to support your changing storage needs
4. Available in single or tandem configurations
5. Low profile tracks are trolley and wheelchair friendly
6. Each system is lockable with a central lock when packed together
7. The built-in safety locks for mechanical type cabinets to safeguard users from accidentally trapped in aisles
Main parts and Optional accessories: Multi-purpose shelf,  cabinet, pull-out desk top, hanging rod, pull-out frame, pull-out drawer, divider, , disk drawer, platform, sliding door Etc.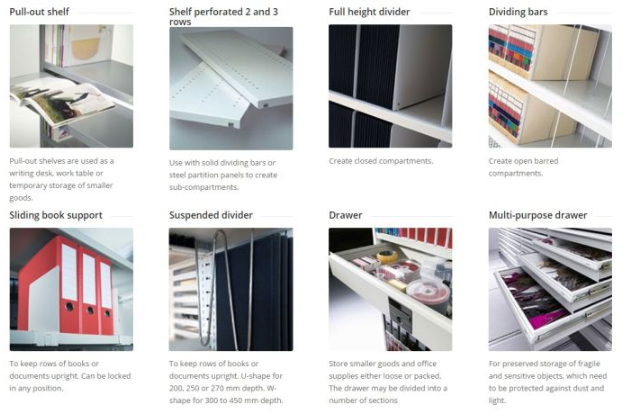 24 Bays High Density Mobile File Storage Rack System details:
                                                                  Specifications
Types:
Manual
Mechanical Wheel
Mechanical Handle
Material  :
  Electyolytic Galvanized Steel
Surface treatment:
Epoxy Powder Coating
Dimension  :
Height :
2150mm
Width :
(905*N)+165mm    (N=number of Bays)
Depth  :
Fixed Unit  : 450mm
Movable Unit  : 450/650/850mm
Shelf Size :
W845xD395xH38mm(for 450/850);
W845xD295xH38mm(for 650);
No. of Shelf
Single Fixed /Single Movable =4n
Double Movable =8n
Aisle Size :
600-1000mm
Loading per Shelf:
Reinforced Shelf  :
D295mm/85kg ; D395mm/100kg
Multi-purpose Shelf  :
D395mm/70kg
No. of Rails :
1-3Bays :
2pcs
4-5Bays :
3pcs
6-7Bays :
4pcs
8Bays :
5pcs
Thickness:
Base
Back panel
Top panel
Front panel
Side panel
Shelf
Post
Rail
2mm
1mm
1mm
1mm
1mm
0.8mm
1.5mm
2mm
Lock :
Steering wheel with brake lock ,more safety
Post
50x50mm square tube post of double plate with slots in 25mm increment
Bumper :
Natural rubber of 30x16mm
Rail :
Made of 25mm concrete steel with 0.8mm stainless steel sheet coating
Wheel :
Iron die casting with anti-rust zinc coating
Loading  : 1000kg / Wheel
  Standard model of mobile filing shelving
Type
Bay numbers
Single fixed
Single movable
Double movable
Double Movable
Manual
1
SFP450-1
SMP450-1
DMP650-1
DMP850-1
2
SFP450-2
SMP450-2
DMP650-2
DMP850-2
Mechanical
1
SFM450-1
SMM450-1
DMM650-1
DMM850-1
2
SFM450-2
SMM450-2
DMM650-2
DMM850-2
3
SFM450-3
SMM450-3
DMM650-3
DMM850-3
4
SFM450-4
SMM450-4
DMM650-4
DMM850-4
5
SFM450-5
SMM450-5
DMM650-5
DMM850-5
6
SFM450-6
SMM450-6
DMM650-6
DMM850-6
7
SFM450-7
SMM450-7
DMM650-7
DMM850-7
8
SFM450-8
SMM450-8
DMM650-8
DMM850-8
Standard  Depth:  ( D )
450mm
450mm
650mm
850mm
Standard  Hight:   ( H )
2150mm
Standard  Width:  ( W )
905*N (N=number of Bays)
Thanks for your concern !